Tire Rotation
Avoid bald spots and tire bubbles - tire rotations extend the life of your tires by ensuring even tire wear.
Price: 
$24.95
Includes:
Tire Pressure Check
Tire Inspection
Rotate & Balance
Increase safety and efficiency of your tires throughout their life.
Starting at
$49.95
4-Wheel Alignment
Opt for a wheel alignment after new tire installation to improve handling and prolong the life of your tires.
Starting at
$89.99
Includes:
Steering and suspension system inspection
Keep Your Tires Ready for Union Roads with the Service Team at Maxon Hyundai
Your tires interact with the road every time you take your Hyundai out for a drive, whether it's your daily commute or some weekend fun. Over time, they will start to wear down and need service, which is where our expert team of Hyundai technicians comes in! We use state of the art diagnostic and repair tools to perform a variety of routine maintenance and service needs, so you can trust the care of your care with us! Check out some service tips on the importance of tire maintenance down below!
The Importance of Tire Service in Union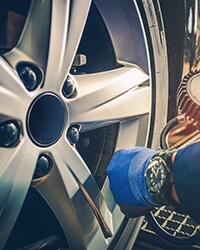 Tires might often get overlooked in terms of the importance of your vehicle's performance, but they can quickly become a much larger problem. They are important to the safety of your passengers, and they help maintain better control when the road conditions are less than ideal. If you're looking to enhance the performance of your tires, below you'll find some signs and factors that can contribute to tire service.
Uneven Wear: You might find that if you drive often, your tires may experience uneven wear and tear. Sometimes, the natural weight distribution of your car can cause tires to wear away faster, but without services like tire rotations and wheel alignments, you might find uneven wear and tear occurs more often.
Tire Cupping: Cupping occurs when cup-like shapes are missing from your tire tread. This indicates that your wheels are not properly aligned and in need of service.
Tire Tread Balding: As you drive around, your tire tread begins to wear away naturally. This is typically due to pressure and friction, and it can have an impact on your traction and stopping distances. Once the tread on your tires wears down significantly enough, your tires will be bald and in need of replacing. A visual inspection can confirm the condition of your tread.
Changing Seasons: Whether you experience harsh winters or you exhibit different driving habits, these can affect tire conditions. Some tires, like summer or even all-season, can't handle winter month conditions like snow and sleet. This can compromise your safety, unlike winter tires, which are designed to handle even the worst of conditions with specially designed compositions and tread patterns.
Schedule Your Next Service With Us
If you notice any of the signs above affecting your tires, our service center is ready to help you out! Our Hyundai-trained technicians use the best tools and equipment available, so don't wait to schedule your appointment! Reach out to us today!
Hours
Monday

7:30am - 6:00pm

Tuesday

7:30am - 6:00pm

Wednesday

7:30am - 6:00pm

Thursday

7:30am - 6:00pm

Friday

7:30am - 6:00pm

Saturday

7:30am - 5:00pm

Sunday

Closed