Conventional Oil Change
The standard oil used with the lowest cost. Best for vehicles that are not subject to severe driving conditions. It is recommended to change conventional oil every 3,000 miles.
Starting at
$29.95
Includes:
Oil change using conventional oil
OEM filter
Synthetic Blend Oil Change
Starting at
$44.95
Includes:
Oil change using synthetic blend oil
OEM filter
Fully Synthetic Oil Change
Specifically formulated to offer the highest levels of protection and performance. It is recommended to change synthetic oil every 5,000 miles.
Starting at
$69.95
Includes:
Oil change using premium oil
Highmileage inspection
OEM filter
Keep Your Fluid Levels Topped Off at Maxon Hyundai
Your Hyundai vehicle depends on a variety of systems to help it run smoothly, and these systems can't run properly without the right fluids. When your fluid levels are running low, you want a dealership that guarantees genuine Hyundai fluids, and the team at Maxon Hyundai provides exactly that. Check out some of the most important fluids necessary to the performance of your vehicle and how to check them.
Engine Oil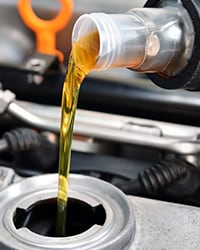 Your engine oil is responsible for providing the lubrication necessary to keep your engine running smoothly. Without routine maintenance for your engine oil, it starts to wear down over time, and it can lead to engine issues and costly repairs. You can check the oil level yourself by popping the hood, locating the dipstick, and wiping it clean before you insert it into the opening. Once you pull it back out, you can determine the oil level based on the residual oil left on the stick. You should pay attention to the color of your oil as well as the level. If it is dark brown or black, you may need to get your oil changed soon.
Transmission Fluid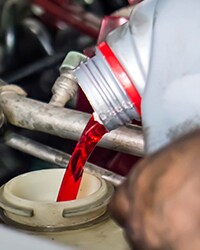 Transmission fluid helps keep the gears well-lubricated, so you can effortlessly shift between them without causing issues. Your transmission fluid should be checked when the vehicle is on. There is typically a second dipstick under the hood which can be used, and transmission fluid is typically red, so if it comes out looking brown, you should get the fluid changed. If you don't have a dipstick, you have a sealed unit and use synthetic fluid.
Brake Fluid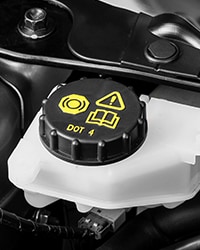 Your brake fluid is usually located in a large plastic reservoir under the hood. Typically stored in a clear plastic container, you should be able to read the level without opening the container. You should note that your vehicle doesn't consume brake fluid, so if you're low, that could mean you have a leak in your brake line. Just make sure to monitor the level of your fluid.
Power Steering Fluid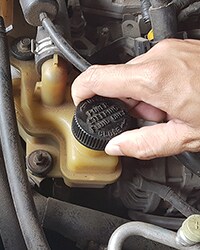 Not all vehicles are equipped with power steering, but if your vehicle uses it, it's typically located in a large plastic reservoir labeled Power Steering Fluid. You can obtain the level of fluid by looking at the container. Just like brake fluid, your vehicle shouldn't consume this fluid, so if it is going down, you should have it looked at by a technician.
Coolant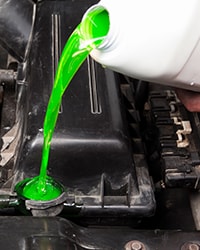 Make sure your car has cooled down before you check your coolant level. The level will depend largely on how recently your vehicle was running and how warm your engine is. It's typically located towards the front of the vehicle near the radiator, and they are designed to use antifreeze as coolant.
 If your coolant is low, you can fill it up with ease. if any fluid levels are low, give us a call, and we can help fill them up for you! We look forward to helping you with your service needs!
Hours
Monday

7:30am - 6:00pm

Tuesday

7:30am - 6:00pm

Wednesday

7:30am - 6:00pm

Thursday

7:30am - 6:00pm

Friday

7:30am - 6:00pm

Saturday

7:30am - 5:00pm

Sunday

Closed