Explore Expert Battery Care with the Maxon Hyundai Service Team in Union
Your Hyundai works hard to give you a cozy, comfortable way to get where you're going. When important parts like its engine, battery, or alignment aren't serviced regularly. Nothing works harder than your vehicle's battery, which not only ensures that you have a working climate control system, lights to see at night, and a fun and intuitive infotainment system to enjoy, but it also provides the spark necessary to start your vehicle. If you believe that your battery is starting to lose some of its power, our factory-trained team here at Maxon Hyundai can help! We'll get you in for an appointment, where we can determine if your vehicle's battery needs service or replacement. Watch for the signs and give us a call if anything appears out of order.
Signs Your Battery Needs Routine Service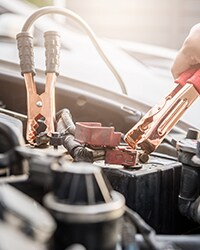 There are a few things that indicate you need your vehicle's battery serviced. If you notice any of these occurring, don't wait until you're stuck on the side of the road, waiting for a tow. Give us a call if you notice any of the following signs:
Trouble Starting Your Engine: If your engine has trouble turning over and starting, this could be a sign that it needs to be replaced. If you find that you have to give it gas to start, or it often has trouble starting overnight, give us a call.
Lights are Slowly Dimming or Electronics Don't Seem to Function: If your music seems to be fading or cutting out, and your lights are failing, this could mean there is an issue with your battery. If they seem to be losing power, we're happy to take a look.
Corroded Connectors on Your Battery: If you notice corrosion on your battery's connectors, this could mean it's near the end of its lifespan.
Need Battery Service? Contact Us Today!
When Should You Have Your Battery Serviced?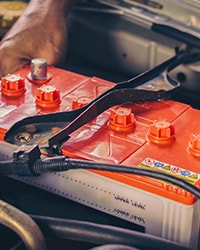 You should typically have your battery replaced every four to five years, but this might also differ based on a variety of factors. If you don't drive often, or you find yourself dealing with harsh summers and cold winters, this can wear your battery down faster. We recommend that you have your battery inspected at the three-year mark, and every year after that until it needs to be replaced.

Ready for the best service you'll find in the Union, NJ area? Give Maxon Hyundai a call, and we'll get you scheduled for battery maintenance, or any one of our many services!
Hours
Monday

7:30am - 6:00pm

Tuesday

7:30am - 6:00pm

Wednesday

7:30am - 6:00pm

Thursday

7:30am - 6:00pm

Friday

7:30am - 6:00pm

Saturday

7:30am - 5:00pm

Sunday

Closed