4-Wheel Alignment
Ask our experienced staff if your vehicle needs and alignment
Starting at
$89.99
Includes:
Steering and suspension system inspection
Alignment Check
Our staff will test if your wheels meets our vehicle manufacturer's precise alignment specifications.
Get Yours

Free
Check Includes:
Measuring wheel angles
Inspecting tires, suspension, and steering components for damage or wear
Keep Your Vehicle Driving Straight with Wheel Alignment Service at Maxon Hyundai
When your vehicle's alignment is out of sorts, it can cause issues for your driving experience. You might find that it's harder to control your vehicle, but you might also discover that you don't get great efficiency out of your Hyundai. Wheel alignment is a repair performed on your vehicle's suspension, so it requires expert knowledge of your specific Hyundai model, a feat that our service team in Union excels at! Learn about wheel alignment and why it's important to the quality of your Hyundai's importance.
How Do Wheel Alignments Work?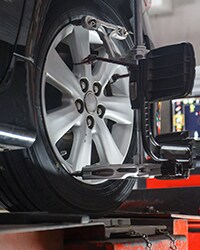 The purpose of a wheel alignment is to square the car's wheels and axles with each other so that they can move in the same direction. Our service team adjusts the four main parts of suspension angles - the toe, thrust, camber, and caster - to help influence tire movement and position for your ideal vehicle performance.
Why Do You Need a Wheel Alignment?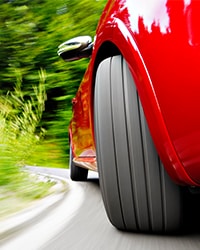 The wheel alignment isn't designed so much to fix your wheels, but rather to adjust your vehicle's suspension. This alters the way the wheels touch the road and without proper service, a misaligned setup can lead to issues down the road that are easily preventable. If you don't have a wheel alignment performed by our service team, you may have less control over your vehicle, which can result in the inability to prevent accidents or collisions.
Signs You Need a Wheel Alignment
There are a few signs you can watch out for that may indicate you need a wheel alignment. They include:
Uneven Tire Wear: Without proper alignment, your tires will make uneven contact with the road. This can lead to uneven wear and tear, shorter lifespan, and even tire blowouts.
Vibration in Steering Wheel: When you experience your steering wheel vibrating, this is most likely a sign that your front wheels aren't aligned.
Your Vehicle Pulls to the Left or Right: If you're driving straight but your vehicle pulls to the left or right, this can indicate an issue with your wheel alignment. You can also check this by putting your wheels on a straight road and seeing if the wheel is off-center.
Ready for world-class Hyundai service? Schedule a visit with our friendly service team today!
Hours
Monday

7:30am - 6:00pm

Tuesday

7:30am - 6:00pm

Wednesday

7:30am - 6:00pm

Thursday

7:30am - 6:00pm

Friday

7:30am - 6:00pm

Saturday

7:30am - 5:00pm

Sunday

Closed